1.3 CMS Toolbar
The iPlasmaCMS toolbar is one of the most important parts of the entire CMS. It is used to access your modules, pages, dashboard, and more. Each section allows you to access a different part of the CMS. The toolbar is shown below.

Dashboard
The first section brings you to the CMS dashboard. More information about what is on the dashboard is avaliable here.

---
Settings
The second section brings you to the Settings. In this section, you can change basic settings of your site. More information about the settings page is located here.

---
My Site
The next section is the "My Site" section. This section allows you to manipulate and add to your content. The tutoiral for the My Site section begins here.

---
Modules
The Modules section shows you what modules you have and allows you to access them. An overview of the modules is located here.

---
Modes
Modes allows access to the different modes that iPlasmaCMS has.
The three different modes have different uses. The modes are Content, Layout, and Stylesheet.

***NOTE*** Modes are for advanced users only. Do not attempt to change the mode.
---
Help
The help section allows you to submit a trouble ticket. If you cannot find the information you are seeking here in this tutorial, send us a trouble ticket and our friendly support staff will get back to you as soon as possible.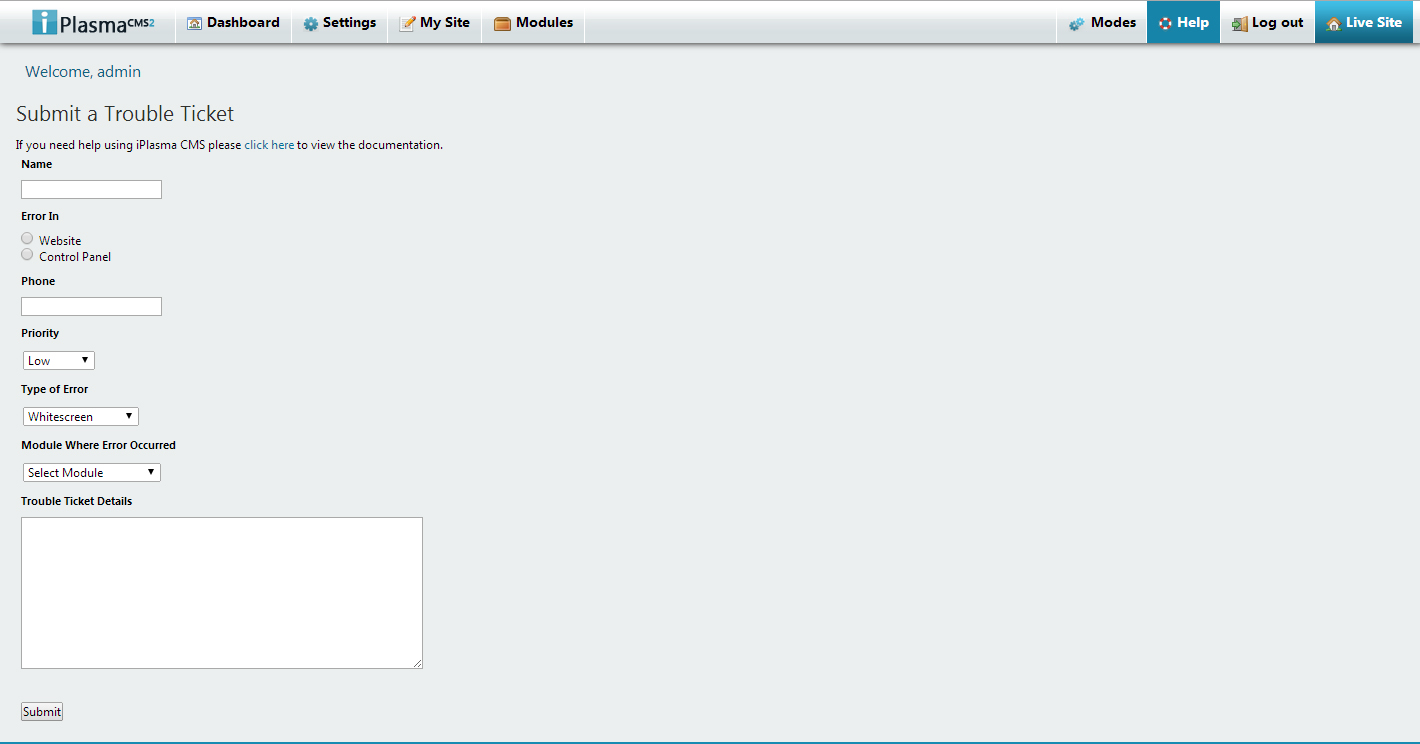 When turning in a trouble ticket, please fill out all of the informational sections. The more information you give us, the more quickly we will be able to resolve your problem.
---
Log Out
The next button in the toolbar is the Log Out button shown below.

As the name suggests, this button allows users to quickly and easily log out of their CMS session.
---
Live Site
The Live Site section is particularly important. This button opens up your site in a new tab in your browser. Using this tab will allow you to view your site as you make changes, as well as show you what visitors to your site see when they find your site.

---
«Previous 1.2.18 Formatting in the WYSIWYG | Table of Contents | Next 2 Dashboard»