03/19/2014: The Highly Anticipated Upgrade to the Events Module is Now Available
The Insercorp Development Team is proud to announce the deployment of our all-new Events Module 2.0 for all iPlasmaCMS2 websites using the Events Module. The new Events Module is packed with many new features to make it easier to manage your website's Events Calendar, including an all new interface, easier management of event categories, improved user experience, and the ability to import/export events. The upgrade also includes compatibility with Google Calendar for your website's users.
The Events Module can be accessed by clicking on "Modules" in the iPlasmaCMS2 Toolbar and then clicking on "Events".
Features:
The administrative interface has been completely redesigned including tabs for the Calendar in addition to new "Upcoming Events" and "Past Events" tabs.
The Calendar view now displays category colors to reflect the colors that your website visitors will see.
Administrators may now drag and drop events from one day to another using the Calendar view.
Administrators may now move individual events or multiple events from one category to another.
The new "Upcoming Events" and "Past Events" tabs feature filtering and sorting options to display only events from a specific category and/or date range with the ability to set the number of results per page (up to 50).
The new "Upcoming Events" and "Past Events" tabs feature sorting by title, start date, or category.
New "Import" and "Export" buttons have been added to allow for importing or exporting of .ics or .csv files to generate events or export them to a different calendar service for improved data proliferation.
When creating or editing categories, Administrators may now select custom colors for categories using a color picker tool.
When adding an event, Administrators now have improved functionality when creating recurring events.
When editing a recurring event, Administrators now have the ability to modify all events in a series of recurring events or edit a particular event.
A new "Add to Google Calendar" button has been added to the Events Module's front-end enabling your website's visitors to add your entire Events Calendar, a specific Category, or a specific event to their Google Calendar.
Bug Fixes:
When deleting a category Administrators are now presented with the option to delete all events in the category or move the events to a different category.
An issue where the database would crash when creating a recurring event without setting an expiration date, resulting in the calendar no longer showing events, has been fixed. Administrators are now required to set an expiration date on recurring events.
Previously, when creating a new event by clicking on a date in the calendar, the event's end date was showing the current date as default rather than the date selected. This has been fixed to show the start date and end date as the date selected.
---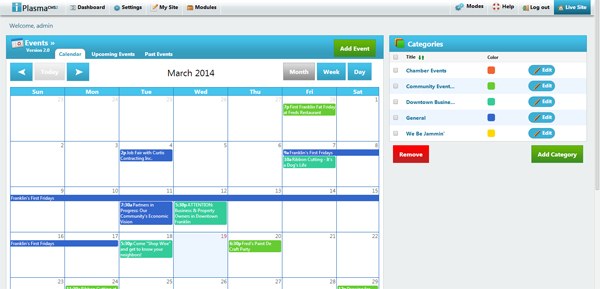 The new Events Module Dashboard presents a much more user-friendly interface for managing your calendar.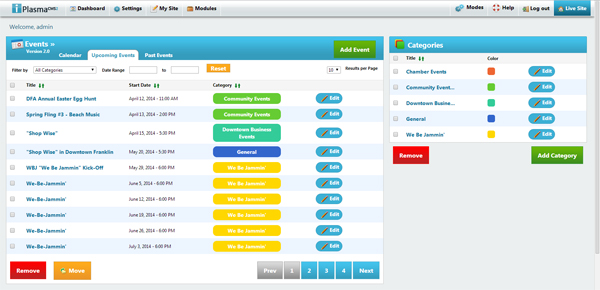 New tabs displaying lists of Upcoming Events and Past Events make it even easier to manage your events.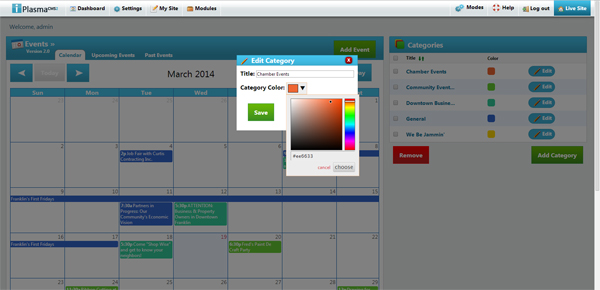 New features include the ability to custom select Event Category colors when creating or editing a Category.

An improved interface for adding and editing events simplifies event creation and management, including new Recurring Event features.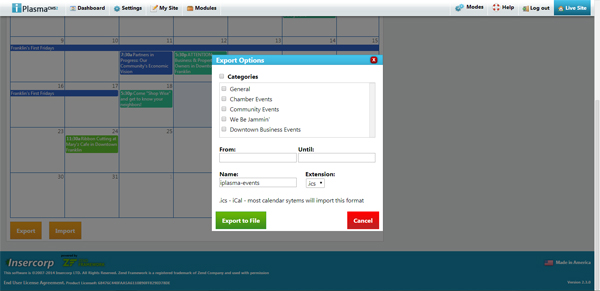 Administrators now have the ability to easily export or import calendar data for compatibility with other calendar services.