iPlasmaCMS2 is a proprietary website content management system suited for website administrators from beginners to advanced users. iPlasmaCMS2, created by Insercorp LTD, implements modern web technologies in the continuous development of the innovative web-based software. The modular system allows for management of any type of website, web-based application, or intranet. Its scalability allows for the deployment of a single, basic website to highly complex networks of interconnected websites. iPlasmaCMS2 is the perfect solution for any type of organization, from businesses and non-profit organizations to government and educational institutions.
Intuitive Interface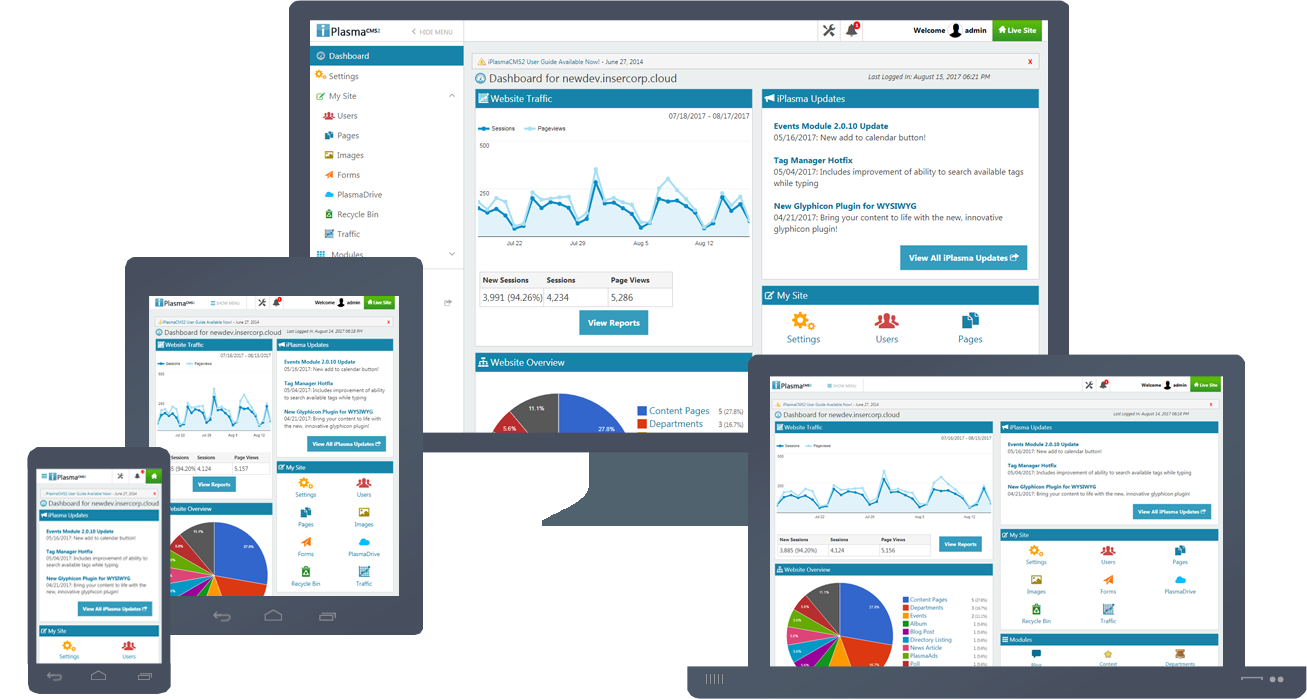 iPlasmaCMS2 was designed for the non-technical website administrator to use without the hassle of having to learn HTML or other web languages. The control panel features the TinyMCE What You See Is What You Get Editor, making changes and updates simple and easy. Unlike open source systems like WordPress or Joomla!, iPlasmaCMS2 is intuitive and easy to learn. iPlasmaCMS2 Website Administrators include small business owners, receptionists, office managers, marketing consultants, IT managers, and even interns!
Technology Driven
For the technical website administrator, you'll be pleased to know that iPlasmaCMS2 is developed on the Zend Framework, a highly advanced web application framework. iPlasmaCMS2 utilizes the latest in technologies including integration with third party APIs to enhance capabilities. Some of the technologies we utilize include:
Zend Framework - Secure, high performing, and modular.
Modern code base with HTML5, CSS3, PHP7
Database Support for MySQL, MariaDB, and other SQL database servers
High performance with latest JavaScript libraries (jQuery, AJAX)
Optimized for Plesk on CentOS7 for Dedicated, Cloud, and on premises server architecture.
Platform Scalability
iPlasmaCMS2 was designed to have no limits and to be completely modular and scalable. The web-based content management system can power a single, basic website or an entire network of websites.
iPlasmaCMS2 is used by Communications, Marketing, and Web Managers representing:
Government including Local, State, and Agency government websites and portals
Business including Startups, Small Business, Franchises, Mid-Size Corporations, and Enterprise
Health Care Providers including Specialists, General Practice, Clinics, and Health Care Systems
Non-Profit Organizations including Chambers of Commerce, Business Associations, Charities, and Civic Groups
Educational Institutions including Schools, Public School Systems, Private Schools, and Foundations
Public persons including Elected Officials, Politicians, Authors, and Celebrities
Media including Newspapers, Magazines, Radio Stations, Novelists, and Blogs
The modular system allows for expandability of website features. This keeps website development cost-effective while also making it easier to manage content in different areas of the website. View product features >
Subscriptions and Licenses
iPlasmaCMS2 is offered on monthly, annual, or multi-year subscriptions with licensing options for Web Design and Develompent companies, Marketing Agencies, and Managed Solution Providers. Volume rates are also available for organizations with muliple websites.
All license plans include:
24/7 Trouble Ticket Support
Product Updates
Unlimited Technical Support
Unlimited Phone Support (during regular business hours)