2. Dashboard
The dashboard is the first thing you see when you open your CMS. There are many different aspects to the dashboard, all shown below.
System Notifications
System notifications allow our team here at Insercorp to communicate with you.
All of our notifications have an option for dismissal, but be careful; once dismissed, these notifications cannot be retrieved.
All Notifications will have a link contained within the notification that will lead you to the appropriate announcement on our site.
Alert Notifications are extremely important notifications with a high priority. These are highlighted in red. They are important pieces of information such as changes to service hours.
Announcement Notifications are also important pieces of information, but do not have the priority level of Alert Notifications. These are highlighted in green. Most of these will be CMS updates.

---
Traffic Stats
This section simply shows the traffic for your website. Powered by Google Analytics, this segment is a powerful tool to show you exactly how many people have visited your website.
The blue line indicates the number of people who have visited your website
The red line shows how many people have viewed it.
Clicking on "More Details" lead you to the "Traffic" section. See Site Traffic for more details.
---
iPlasma Updates
This section provides links for the writeups for every update within the CMS and the specific modules.

---
Site Settings
To access the beginning of the tutorial for how to change things in your site, see Settings and My Site.
---
List of Modules
To access information about the modules, go to Module Overview.
***NOTE*** The modules you see in this section depend on what modules you have purchased.
---
Right Now
This section shows how much of each type of content is on your site.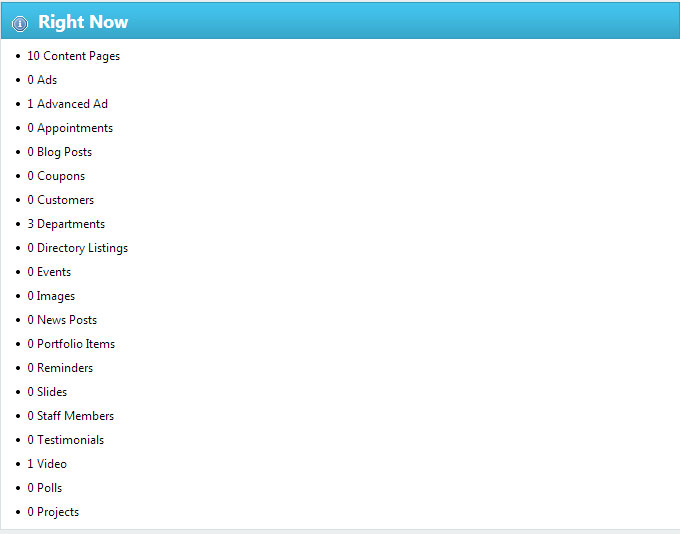 ***NOTE***The options in this pane will be affected by what modules you have.
---
Suggestions
This section provides suggestions of what you can do with your site to get started.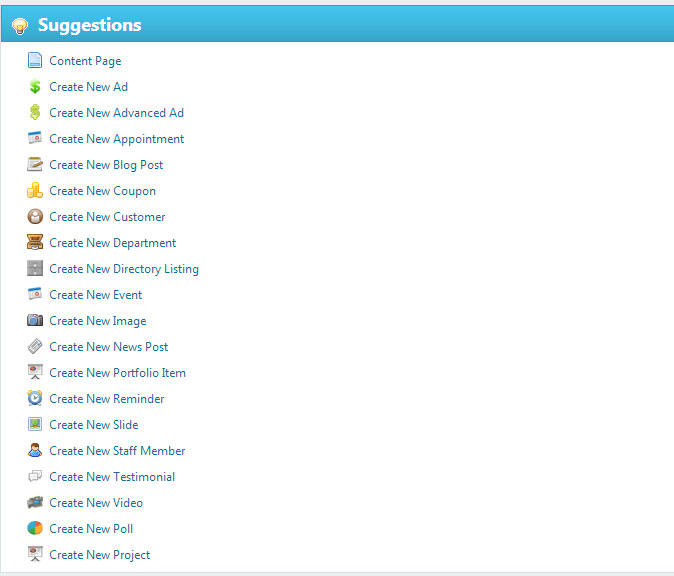 ***NOTE***The options in this pane will be affected by what modules you have.
---
«Previous 1.3 CMS Toolbar | Table of Contents | Next 3 Settings»